10 Small Bathroom Ideas That Work
Bathroom layouts can be challenging, but a small bathroom can be particularly challenging. If you bathroom is short on space and you need some small bathroom ideas to make it work, then you have come to the right place.
Every day here at Baker Smith Ltd/Cathedral Bathrooms we work with customers just like you, from carrying out a quote to delivering excellence but one of the projects we find that people struggle with the most is small bathrooms.
To help, we pulled some of our favorite small bathroom project findings to give you small bathroom designs that really work.
Lets take a look:
10 Small Bathroom Ideas that Work
Add Mirror Walls
As the small bathroom above shows, adding a mirror across a whole wall can double the look and feel of a small room. This particularly effective above a vanity or along one side of a narrow bathroom. Mirrors are also great for reflecting light, so you can get more lighting for your light fixtures and windows.
Wall Mounted Toilets
If you have space in the walls of your small bathroom to build-in a toilet, you can save both floor space and legroom with a wall mounted toilet. If you can't wall mount the toilet, consider adding shelves above the tank for additional storage space or extending your vanity top to create a narrow ledge.
Lose the Tub
Tubs take up twice the amount of floor space than showers. If you have an option to lose the tub, you'll open up your small bathroom significantly. Showers are great for adults and guests, especially older ones. If you add a hand shower, they are also excellent for getting pets clean too. However, if you have children and need to keep tub for bathing them, then consider a lower profile tub. The lower height makes getting in and out easier and it will make your room feel more open as well.
Frameless Glass Tub and Shower Panels
Let's be honest, no one like shower curtains. They stick to you when you're showering and they are a pain to clean. Shower curtains also close off one-third of your room visually. To prevent this, swap out your shower curtain for a frameless glass panel instead. This will open up your bathroom significantly and allow more light into your shower or tub.
Glass panels are easy to install, maintain and are perfect for small bathrooms. They can either be fixed in place or hinged to swing. You can fold the hinged glass panels inward when the shower is not in use as well. Avoid sliding glass panels, which require top and bottom tracks and are more difficult to clean.
Continual Flooring and Curbless Showers
Here is one of our favorite small bathroom design ideas – Curbless Showers. By eliminating the curb around the shower, your flooring can continue right into the shower. This works great with concrete, stone slab and tile floors. You can even incorporate a concealed or infinity-edge drain for a really seamless look. Plus curbless showers are easier to clean.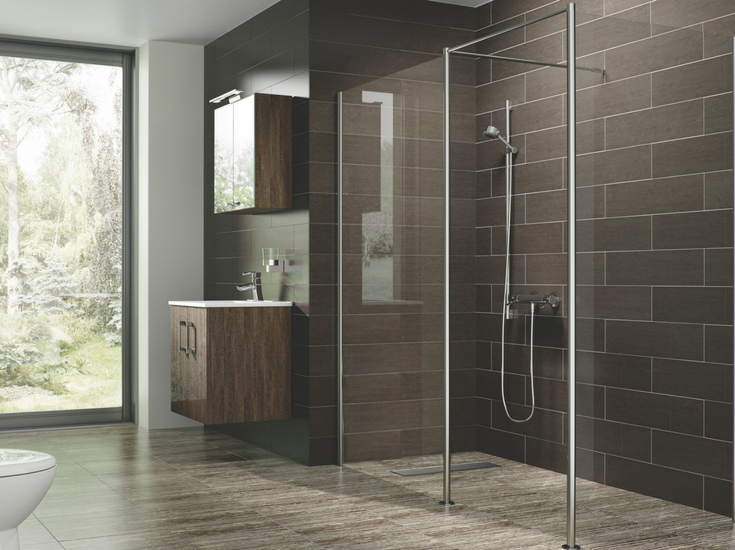 Small Sinks and Floating Vanities
As with wall mounted toilets, wall mounted sinks are an excellent way to save floor space and make your small bathroom appear more open. If storage is key, try a wall mounted floating vanity. Look for narrow wash basin designs and for the newer thin-edge sinks. The ceramic is just as strong as it is with a traditional sink and you'll get a larger wash basin in less space.
Think Vertical – Add cabinets and Open Shelves to the Walls
In small bathrooms, storage is often sacrificed. While there may not be available real estate o the floor of your small bathroom, there is on the walls. Opt for recessed medicine cabinets with mirrored fronts above your sink.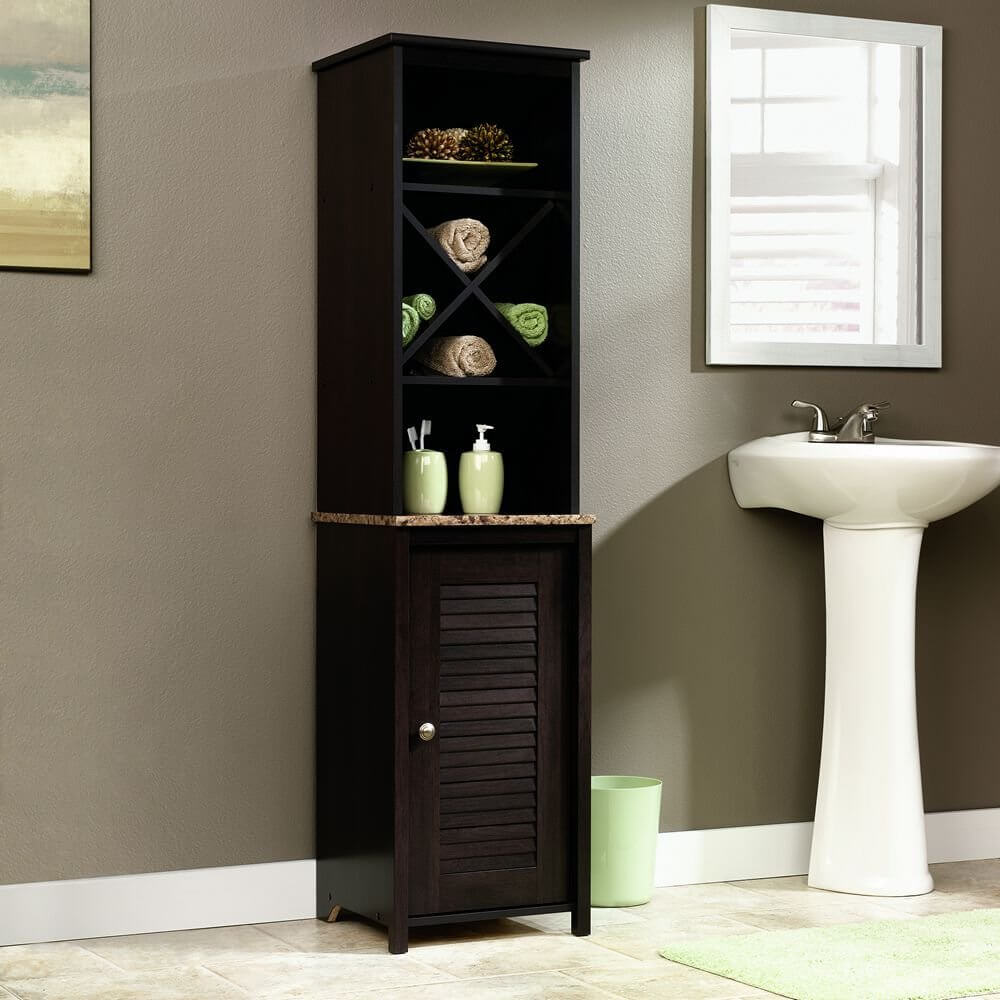 Add shelving on the wall above the toilet, at the end of a tub or above the entry door or vanity. Use narrow open shelves to keep the look light. Metal towel racks also work well. For cabinets, look for ones with glass fronts. Don't forget the back of the door, it is a great place to add towel bars or robe hooks.
Pocket Doors
Beyond eliminating the tub, one of the biggest space saving small bathroom ideas you can consider is to switch from an in-swinging door to a pocket door. To install a pocket door you will have to open your wall to create the pocket. However, you can gain up to 9 square feet of usable space that you did not have before. You will have more flexibility when placing your fixtures as well. You can also look for surface-mounted sliding door hardware to create a modern sliding door hardware to create a modern sliding door or barn door look.
Combine Dark Floor with Lighter Walls
With small bathrooms, you want to be strategic with colour. Dark walls will make an already small bathroom feel smaller. Light walls will reflect more light and make your small bathroom feel larger. Reserve dark colours for the floor or keep the overall scheme light. If you have wood floors, look for shower tiles that match the wood in colour and tone. This will create the illusion of a continuous floor and won't draw your eye to the smallest part of the room.
Add an Accent Wall
We saved the best small bathroom design idea for last. Adding an accent wall is one of our favorite small bathroom ideas and it's a great way to add some colour to a small bathroom. In a small bathroom you will want to place the accent wall on the back wall. You can add colour to the whole wall or just a band of colour. This technique will give your room depth and interest without overwhelming it.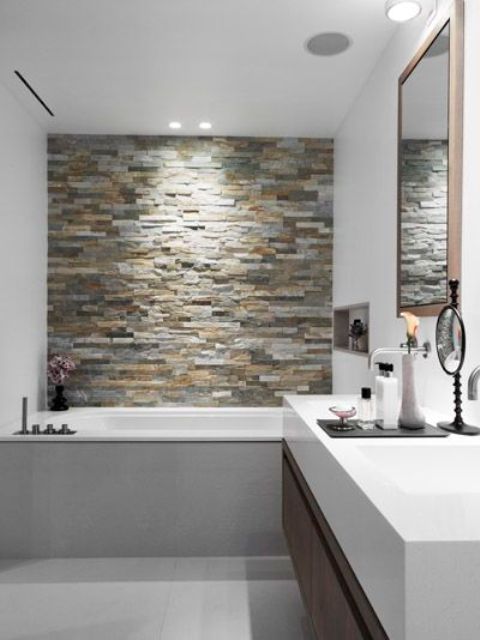 You can create an accent wall with paint or with a fun colourful tile. If you want to add some pattern, then use it in the same way – either on the floor to create an accent wall. Keep the rest of your walls simple and light in colour to not dilute the effect.
Get started on your Bathroom Design
To get started on your new bathroom renovations, speak to one of our friendly installation experts, we are happy to give you advice and a free no obligation quote.