DIY home improvement books can be the perfect housewarming gift from a friend, or a gift for your children when they move out of the family home. Or treat yourself to one, and unleash your inner DIY guru.
Before you dedicate on buying a DIY home improvement book, make sure you know how to pick the right one. The book you choose should have clear step-by-step instructions, the language should be simple to understand, and the more pictures it has, the better. After all, most of us are visual learners.
To save you time on browsing around, we've picked 5 acclaimed DIY home improvement books to inspire you, and unleash your creativity.
100 Things every homeowner must know: How to save money, solve problems and improve your home – Editors of the family handyman.
The title certainly doesn't leave any doubts on how useful this book can be, especially for someone who's just moved out on their own.
As you go through the chapters, you'll learn how to be a better homeowner, make the right decisions and save up.
How you house works: A visual guide to understanding and maintaining your home – Charlie Wing.
This wonderful book is a visual encyclopedia full of diagrams and illustrations. It will help you understand the mechanics of your own home, which will also be useful when trying to avoid breakdowns.
Upcycling: 20 creative projects made from reclaimed materials – Max McMurdo.
#Upcycling has become trendy amongst millennials in recent years. Is it because it helps the nature, or because this generation is facing greater financial difficulties than the ones before? We cannot be entirely sure but the trend is there.
It will show you how to re-purpose, reuse and refurbish your belongings, giving an entirely new, designer-looking upgrade to your home.
Made by Hand: Searching for Meaning in a Throwaway World – Mark Frauenfelder.
You can't go wrong with this book by the editor-in-chief of MAKE magazine, which arguably inspired the DIY movement.
Automatic cat-feeders, or energy-saving iPhone charger – this book has it all, and all is curious, unusual and helpful.
The Complete Photo Guide to Home Repair: With 350 Project and over 2,000 Photos – Black & Decker.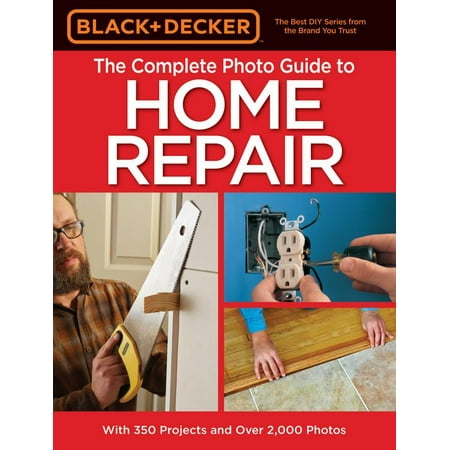 The author says: "An ultimate, fully loaded, ridiculously over-packed reference book for every home project you can dream of; the complication of our longstanding expertise; the home how-to book to brush all others." With it's 560 pages, and weighing over a kilo it's not your everyday light read but can certainly come in handy for DIY enthusiasts of all ages. We guarantee, there will always be something new to learn.
And a bonus one:
All the Way Home: Building a Family in a Falling-Down House – David Giffels.
A memoir set in Ohio, USA this book is a must-read for everyone panning to start on a home improvement project. With lots of humour it will guide you through the problems, and frustrations any DIY enthusiast can face, and teach you how much you can grow, while on the path to achieving your goals.
As much as you love DIY, if you're facing an emergency breakdown, or a big project, it is still best to seek the advice and help of a professional.
Call Baker Smith Plumbing and Heating Engineers on 01727 730590 or email us.