Bathroom Organising Hacks
As winter is only round the corner, now is the perfect time of the year to think about organising and general tidiness of your bathroom. After the busy summer holiday period of going away and just enjoying the warmth, we generally put this at the back of our to do list. But as December is fast approaching where lots of family and friends will be coming in and out of your home things can easily get shuffle about and even lost in all the chaos. This time of the year is the perfect time to think about how you would like to get the most out of your bathroom. Maybe you simply want to clean and refresh the room or perhaps you would like to completely re-design? Either way now id the best time for a refresh and some organising.
Here are tips and hacks for organising your bathroom, I hope that these clever ideas will help you get the most out of your bathroom and leave it as a place where you can relax and enjoy some peace and quiet.
The first stage is to remove everything from your bathroom shelves and cabinets, throw away any old products or medicine and give all bottles and jars a quick wipe down with a damp cloth to remove any dust.
Use the shelves in your cabinet or any other storage you have in your bathroom as a way to organise the products by type and keep the things you use most to the front.
Keep shower and bath products nearby so you can easily reach them whilst bathing.
Finally, make sure that your medicine cabinet is well stocked with everything you need to stay fit and healthy.
If you have any bold or miss matched towels consider cutting them into rags for household cleaning or donate them to a charity shop, homeless shelter or animal hospital. Just because your towels are old or a little threadbare doesn't mean you need to throw them away completely. Launder all your newest towels and fold them or roll them neatly to be stored in the bathroom. If you have a large family you can consider installing some handy hooks so that everyone has a place to hang their damp towel.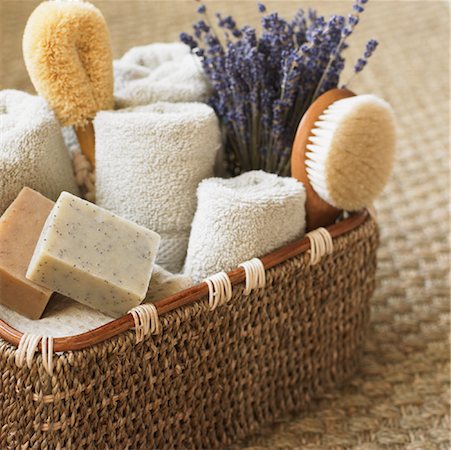 If you have storage under your sink make sure to make the most of the space available to you. One of the best ways to do this is to attach a plastic rod inside the cupboard which makes a perfect hanging spot for cleaning products. Simply hang the spray trigger over the rod so the bottles can easily hang without taking up surface space. Another great storage great storage saving hack is to attach a magazine or paper file to the inside of the door. The boxy shape of these files is a perfect storage solution for cleaning products solution for cleaning products and even styling tools.
For a chic yet useful way to organise your bathroom why not consider purchasing wire baskets in various sizes? Many stores stock a huge range of metal baskets, they come in a selection of finishes including shabby chic rustic wire or smarter polished gold so whatever your style you can easily find a wire basket to suit your bathroom.
Baskets like these are a perfect way to store hand towels, extra toilet rolls, cotton pads or any other products you need to keeps handy. The wire allows you to see what's inside the baskets whilst also ensuring that everything looks trendy and chic.
Why not attach a sheet of metal to the inside of your medicine cabinet to use as a magnetic organising board?
Purchase some small metal tins and boxes that you can attach, move around and reattach to the metal sheet to be used as a small storage containers. Once magnetically stuck you will be able to keep all smaller items (that easily go missing in the bathroom) together in one place.
We hope you found this post most helpful and fun. Don't forget to Comment, follow, and like us on Facebook, Twitter and LinkedIn, we would love to hear your feedback.