Types and Styles of Taps Explained
Choosing the right taps for your home can be quite a difficult task.
Different types if taps like bath, shower and vanity taps, have different requirements, and picking sets that match your interior and also do the intended job effectively, can sometimes be tough.
If you choose to fit matching sets of taps throughout your home, you will save some time, but if you concentrate on customising each tap to suit it's purpose, it can often look better. Something that looks good in your kitchen, will probably look completely out of place in your bathroom, and so forth.
If you don't know your basin mixer from your bath filler, then you should be reading this blog! Weighing up the pros and cons, we will let you know the different types of taps available.
You may think that different types of taps are there to just provide a nice finishing touch to your bathroom interior. However, without a source of water what is the purpose of a bathroom? Therefore, taps are the most important element in a bathroom. But , this again isn't one of it's only purposes as they also deliver a variety of styles, types, and functions. Taps range from the timelessly traditional to cool and contemporary.
Recent developments in new styles and trends, there has been a huge demand for bathroom tap manufacturers to add a unique aspect to the bathroom. This massive variety of options may confuse you about the real advantages and disadvantages of the different tap types available.
So, the first thing is to establish that both in style and practicality, what will complement your bathroom. Weighing up all of your options is vital for a great looking bathroom that also offers a fun and easy experience each time. Let's look at each option in a little more detail.
Floor mounted taps are the most recent for bath taps. Instead of hiding any pipes or plumbing, they are actually exposed from the floor up to the tub. They also give the freedom to place the bath tub anywhere in the bathroom as long as the fixtures can be readdressed to the area.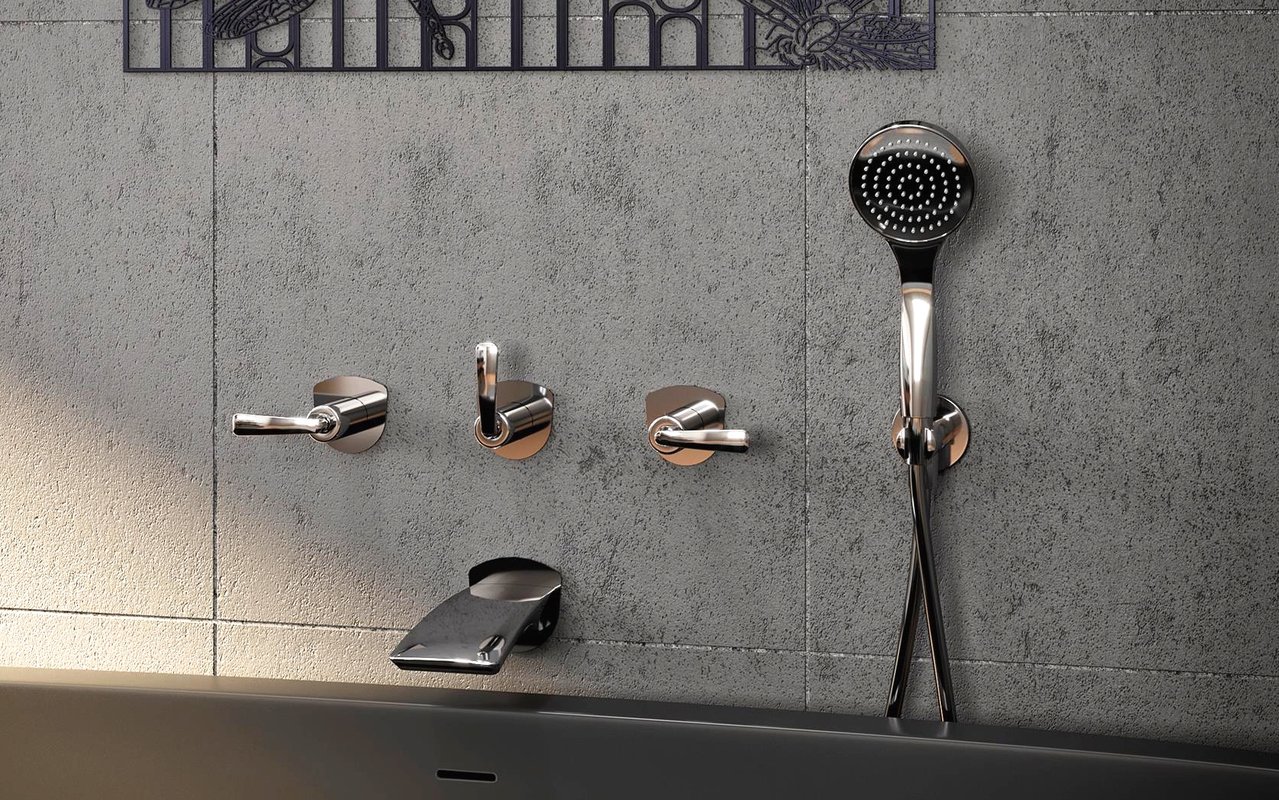 Wall mounted taps reach out to fill the bathtub or basin and are mounted to the wall. This is a more contemporary style and makes it easy to clean. However, as all the plumbing is hidden in the wall, it is quite harder to repair.
In the UK, pillar taps are possibly the most common style of tap. These are individual taps with their own valves to control the flow of water. They fit into the bath and basins that have two tap holes, one for the hot and one for the cold tap.
The use of mixer taps have increased in recent years. Before water leaves the faucet, they mix the hot and cold water together to give you an even temperature of the water before it reaches the tub or basin. It reduces the risk of running freezing or scolding water greatly.
Filler taps are very similar to mixer taps. They generally combine two handles or levers to control the flow and temperature, ideal for finding the perfect temperature of water. Moreover, they do not need high water pressure to be used.
Bath/Shower taps are a mixture of bath fillers and hand held shower head, that stretches from the tap. They are like having an all in one tap that can both fill your bath and wash your body like a shower. However, they are not ideal for basins.
Now, while picking up taps for you bathroom these are a few things you should remember before you buy any set of taps.
What types of water pressure do you have?
It's important to know about your water pressure, as this determines the flow of water from the tap. The most common and low pressure systems are Gravity-fed water systems. Other system-less common ones include unvented hot water systems and combination boilers.
What finish should you go for?
While choosing an ideal design to suit your bathroom interior, pick a finish that compliments the rest and the overall style of your bathroom.
When it comes to the material and finish, gold or brass effect taps are ideal for creating a Victorian style. They are perfect to add a touch of traditional luxury and warmth to your bathroom.
Standard chrome taps come in a wide range of classic and contemporary styles that suit most bathrooms. You can select a matte or shiny finish to complete the look you're after.
Although, do keep in mind that shiny chrome taps need to be cleaned frequently to keep them looking their best. On the other hand, matte chrome or stylish brushed finishes are comparatively easier to maintain.
How to clean your tap?
Whichever taps you choose, regular cleaning is needed to keep taps looking their best. You can use a soft cloth, gentle cleaning agent, and warm water to keep your taps sparkling. Rinse the tap and wipe with a clean, dry and soft cloth to remove smudges. Avoid harsh compounds, pads, cloths or creams, for they may scuff and damage the tap's surface.
What about fitting?
Conventionally, taps were always attached on basins and baths with built-in tap holes, which in fact, is still the base for many styles even today.
However, many contemporary designs have developed over the year, from freestanding to wall-mounted taps, that offers sleek styling for a clean, organised look.
Although, many models involve involve concealed fittings behind bathroom fixtures, which is a difficult installation than usual. We recommend having your bathroom taps fitted by an experienced plumber, to ensure the perfect finish.